DALGAKIRAN BASINÇLI HAVA A.Ş.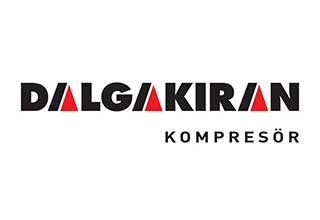 DALGAKIRAN BASINÇLI HAVA A.Ş.
From its beginnings, DALGAKIRAN was always a firm that dreamed of the future, making plans for it and developing appropriate strategies. Our philosophy of being one step ahead of the competition, growing continuously, focusing on customers and innovating has been a tradition for 50 years.

Our strategy of putting two new products on the market each year, of growing by opening new facilities and customer service points in Turkey and abroad, of knowing our customers, of addressing the challenges that may occur during the product design and usage phases of the product, and thus competing by developing more, faster, and more economical products, is applied aggressively, and supporting investments are made continuously.

Our goal is to be among the world's top five manufacturers in compressed air sector. In order to achieve this, we have opened up to international business as a brand and developed supporting strategies.

DALGAKIRAN specializes in the compressed air sector, offering a wide range of products to its customers. We produce heavy-duty reciprocating & rotary screw air compressors, reciprocating & rotary screw booster compressors, oil-free air compressors, starting air compressors for maritime and power station applications, cement transportation compressors, air receivers, every kind of compressed air dryers, air filters and compressor room management systems to our customers and business partners in compressed air sector.

By offering a wide range of products, a strong manufacturing infrastructure, meeting the demand in both domestic and international markets and being permanently represented internationally, we not only opened branch offices and after-sales service centers in RUSSIA, GERMANY and UKRAINE but also established distribution networks. We provide services to the hard-to-reach places, and thanks to our more than 35 exclusive dealers, Dalgakiran offers sales and distribution channels in numerous locations throughout the world.

Dalgakıran is a growing technology-based company that manages change and ability with its human resources, responds to challenges with the power of knowledge, belief and hard work, and deals with uncertainty and threats in the business world with its decisive and dynamic management style.

Dalgakıran is a company that continuously grows and believes in constant innovation and improvement. Being open to opportunities and collaboration, acting quickly and leading the compressed air sector with its organizational structure are the distinctive corporate characteristics of Dalgakıran.
Screw Compressors,
Piston Type Compressors,
Turbo Compressors,
Equipments
Eyüp Sultan Mahallesi Yanyol Üzeri Müminler Cad. No: 70/A, 34885, SANCAKTEPE İSTANBUL , Türkiye
+90-216-311 71 81
+90-216-311 71 91 & 92
Firma İletişim Formu
32.030 kez görüntülenmiştir