TAMSAN KOMPRESÖR SAN. ve TİC. A.Ş.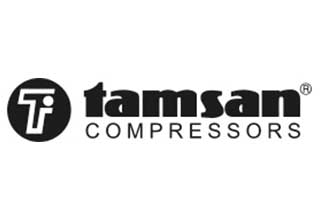 TAMSAN KOMPRESÖR SAN. ve TİC. A.Ş.
Tamsan Compressor was established in 1980 to produce air compressors and associated spare parts and components. In the first few years, universal lathes were used in Tamsan Compressor's 800m2 facility. However, taking advantage of developing technology, the company soon adopted CNC (computer numerical control) machinery.The benefits of this equipment in our production environment were improvements in standardisation, better product quality and reductions in cost.

Increasing sales required Tamsan to increase the production area from the original 800m2 up to 8000m2 in 2008. Thanks to its emphasis on quality, Tamsan now exports its air compressor products to many countries around the world, and is particularly successful in Europe. With increasing exports of high quality products, Tamsan's name and reputation are becoming more familiar in the world of compressed air as each day passes. The standard range of oil-flooded rotary screw compressors now includes over 80 different machines and continues to expand.

Furthermore, by developing and exploiting its associations with industrial and academic partners, Tamsan aims to bring new products and technologies to market.. As a pioneer brand in its sector, Tamsan envisages continued growth in sales, a widening of its product portfolio, and a consequent increase in world-wide market share.
100. Yıl bulvarı no :50 Ostim, 6374, YENİMAHALLE ANKARA , Türkiye
+90 312 354 66 22
+90 312 354 75 34
Firma İletişim Formu
13.266 kez görüntülenmiştir