VATAN MAKİNA SANAYİ ve TİCARET A.Ş.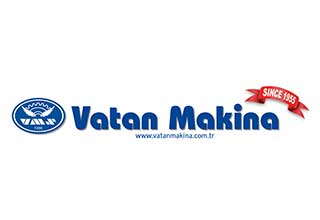 VATAN MAKİNA SANAYİ ve TİCARET A.Ş.
Vatan Makina was founded by Şükrü N. Umar and Hikmet Efe in Istanbul in 1955. The company started out as a turning shop producing components and spare parts for machinery before moving into the manufacture of eccentric presses to serve the needs of metal working industry. As a result of combination of quality materials, a skilled workforce, just-in-time delivery and good after sales service, Vatan Makina became a preferred name in its field. The 1970's saw the company expanding into export markets which still includes such countries as The United States of America, The United Kingdom, The Netherlands, Germany, France, Italy, Poland, Greece, Bulgaria, Hungary, Russia, Belarus, Ukraine, North Cyprus, Saudi Arabia, Syria, Iran, Iraq, Jordan, Yemen, United Arabic Emirates, Egypt, Tunisia, Libya, Morocco, Sudan, Lebanon, Israel, Indonesia, Ghana, Peru, Chile, Romania, Macedonia, Kazakhstan, Azerbaijan, Georgia, Uzbekistan. With countless examples of Vatan machinery operating throughout the world, the company continues to export 85% of its total production. The basic principles which made us Vatan Makina remain the same and we proudly offer to both our domestic and multinational customers a unique product line comprising eccentric presses and complete can making lines, as well as individual can making machinery and tooling dies. We look forward to welcoming your company to our growing family of distinguished customers.
Cast Iron Frame Presses, Cast Iron 6K Eccentric Presses, 4K-6K Eccentric Presses w/ 4-6 Guideway Ram/Slide, 1-2-4 Connecting Rod (Pitman) Mechanical H Frame Presses, Mechanical H Frame Speed Presses, Mechanical 4 Column H Frame Speed Presses, Custom Made Presses, Mechanical Roll Feed, Servo-Roll Feed Systems, Cut-to-Length Lines, Can Production Lines, Machines & Presses.
​İmes Sanayi Sitesi C Blok 308 Sokak 34 Yukarı Dudullu, 34776, ÜMRANİYE İSTANBUL , Türkiye
+90-216-364 34 19
+90-216-364 34 23
Firma İletişim Formu
26.028 kez görüntülenmiştir