UZAY MAKİNA TAKIM TEZGAHLARI SANAYİ ve TİCARET A.Ş.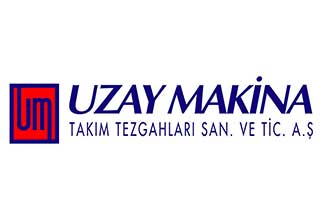 UZAY MAKİNA TAKIM TEZGAHLARI SANAYİ ve TİCARET A.Ş.
Uzay Makina as one of the leading machine tool manufacturer in Turkey has been deeply involved in metal cutting business since 1976. We are the first
manufacturer of high quality hydraulic hack and bandsaw machines in Turkey. Uzay Makina has a strong engineering substructure to offer its customers a complete line of standard and tailor-made products with 40 years experiences in metal cutting technologies.
Uzay Makina presents wide range of hacksaw and bandsaw portfolio; 70 standard catalog machines from simple machine shop saw to 2200 mm capacity saw up to high performan- ce and mass production saws, numerous configurations and many innovative projects in the market and continues to develop new designs which will capture excellence in this field. More than 25,000 installed saws show the satisfaction of our customers and the success of our products worldwide. As a worldwide machine producer Uzay Makina selects the best possible components and technology to guarantee the integrated efficiency of quality, cutting performance and cost parameters. After sale service supplies spare parts during very long years and supports our customers by instructions or services at customer's field. Production facilities and management of company located in trade center of Turkey, in İstanbul.
The company provides all supply chain from R&D, quotation preparation up to after sale services from single source within elite engineers, experienced machine craftsmen, qualified electricians and assembly specialists. Our first and most important principle is continuous customer satisfaction and life time service. UZAY Makina keeps its lead position in sector which supported by strict conformity with the philosophy and procedures of ISO 9001 certification. Valuable ideas come from our customers in steel and aluminum stockholders, in machine and system manufacturing, in the metalworking industry, in the construction and in the automotive sector. In addition, customers from different industries, i.e. steel mills, defense, shipyards, railways, schools and research facilities are our power to develop our R&D facilities. Along these facts we believe that we can carry this valuable company to new generations if we only depended on being a company with customer focus. With this power we will continue to increase our economy and support our industry.
• Angled Cutting: G, DG, LG, GE Series
• Programmable: PLC, SF, HF Series
• Automated Production: UMSO Series
• Semi Automatic: UMSY Series
• Large-Heavy Cutting: HF,SP Series
• Vertical Cutting: Block Series
• Vertical Cutting: Uzv Series
• Gantry: UMSG Series
• Bundle Cutting: HAD Series
• Heat Exchanger Cutting: UMSB Series
• Vertical Cross Cut: UMCR Series
Beylikdüzü Bakır ve Pirinç Sanayiciler Sitesi Menekşe Cad. No:18, 34020, BEYLİKDÜZÜ İSTANBUL , Türkiye
+90 (212) 875 46 41
+90-212-875 59 00
Firma İletişim Formu
25.435 kez görüntülenmiştir