KARDEŞLER MAKİNA ve KALIP İMALAT SANAYİ ve TİCARET A.Ş.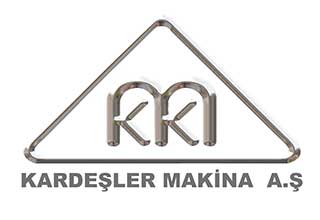 KARDEŞLER MAKİNA ve KALIP İMALAT SANAYİ ve TİCARET A.Ş.
Our company, KARDESLER MAKINA, began its standard machinery manufacture with Rivet Presses in 1990. Its previous experiences were manufactures of special automation machineries and plastic moulds.
In direction of market researches done in earlier 90s and offers, KARDESLER MAKINA changed its manufacture concept, and began first to manufacture 3 kinds of Rivet Presses through its machine experience. Up to now, it has tried to promote these systems. As a result of its being different brand, it added alternative product varieties and different product groups to its product range, and added also Mechanic Band Feeders, vertical and horizontal moving Roll Band Removers to its manufacture capacity. It continues to serve different sectors through its innovation understanding, quality and reliance sense in domestic and foreign markets.
When we came to earlier 2000s, through responsibility of our being machinery manufacturer, we followed technology closely, and established the company "KARDESLER MAKINA VE KALIP IMALAT SANAYI TIC. ANONIM SIRKETI" to catch developments, and to offer services continuously and uninterruptedly in current markets. KARDESLER MAKINA presents its domestic and foreign customers quality products in proper prices through its experienced team, quality policy, and deliveries without fault and on time.
KARDEŞLER MAKİNA AŞ VISION and MISSION
Our management and marketing strategies are to fulfill quality policies and - with the product that we produce and market - to be customers' choice in inbound and outbound markets And to provide continuity and to create safe , peaceful , transparent , democratic and profitable ambient with our staff , partners and customers.
PRODUCTS & SERVICES
* Riveting Technologies
• Rivet Presses
° Orbital Rivet Presses
° Radial Rivet Presses
• Center-set and Fixed Double Head Riveting Systems
° Center-set and Fixed Double Head Riveting Systems
• Rivet Press Units
° Rivet Press Units
• Automation Riveting Systems
° PLC Radial Rivet
° CNC Radial Rivet
• Brake Lining Rivet Driving Machine
° Brake Lining Rivet Driving Machine
* Coil Handling and Feed Systems
• Compact Systems (3in1)
° Middle Sized
° Large Sized
• Feeders with Straightener
° Middle Sized Feeders with Straightener
° Kalın Seri Doğrultmalı Servo Sürücüler
• Electronic Servo Feeders
° Thin Sized
° Middle Sized
° Large Sized
• Mechanical Decoilers
° Mechanical Decoilers
° Hydraulic Decoilers
° Double Head Decoilers
° Horizontal Decoilers
• Compact Decoilers (2in1)
° Compact Decoilers (2in1)
° Double Head Compact Decoilers
• Band Straighteners
° Band Straightener
• Mechanic Band Feeders
° Mechanic Feeders
Topçular Mah.Ferhatpaşa CadApek Üretmen İş Merkezi. C Blok No: 6/71-95, 34030, EYÜPSULTAN İSTANBUL , Türkiye
+90-212-544 3733
+90-212-501 70 23
Firma İletişim Formu
20.782 kez görüntülenmiştir