HİDROMEK HİDROLİK ve MEKANİK MAKİNA İMALAT SANAYİ ve TİCARET A. Ş.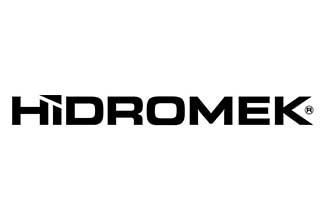 HİDROMEK HİDROLİK ve MEKANİK MAKİNA İMALAT SANAYİ ve TİCARET A. Ş.
Durable and Efficient Machinery for Increased Competitiveness
Designed through its vision, Hidromek products are created through an innovative approach and latest product development methods, including the world's best components. Resulting in a product produced meticulously at modern production facilities, and are a combination of quality and passion in industrial leadership.

Through this strong structural design, engines that offer advantages in productivity, innovative hydraulic and under carriage systems and ergonomically designed operator environment offering comfort levels equal to automotive industry, Hidromek fulfils its 36 yearlong promise of unparalleled competitiveness.

Award Winning Design
Our designs with innovative and modern lines, equipped with user-friendly details, won the German "IF DESIGN" and American "GOOD DESIGN" awards which are amongst the world's most important design evaluation platforms.

Product Line
Hidromek product line consists of 22 different Construction Equipment that are used in variety of applications including loading, digging, breaking, demolition, excavation, material handling, ripping and grading. The model line-up consists of 3 models of Backhoe Loaders, 2 models of Wheeled Excavators, 5 models of Crawler Excavators and 6 different Special Application Excavators. Recently HIDROMEK has added a NEW Graders range to its product line up with 6 different models.

Attachments
To further increase the areas of application and usage, HIDROMEK's attachment product range includes a full Hydraulic Breakers range, as well as a range of Timber, Trenchers, Augers and Rippers that can be used with or without quick couplers.

Customization With Optional Hardware
By using the Optional Accessories Program that are suitable for the Hidromek Construction Equipment, you can design your machine suitable to the specific application required.

Team Behind The Work
HIDROMEK's engineers, who are successful experts in their fields, together with specialists across the world, continue meticulously to develop the features and performance of the HIDROMEK Backhoe Loaders, Hydraulic Excavators and Grader range.

As demonstrated with the Gen series Hydraulic Excavators as well as the HIDROMEK Maestro and SUPRA Series of Backhoe Loaders, HIDROMEK team is always striving to produce special machines that combines productivity, durability and ease-of-use for the end user.

Through its special production methodology, processes and facilities as well as first class components it uses, HIDROMEK once again demonstrates the underlying differences against other brands it competes with.

HIDROMEK difference is further demonstrated by precise calculations, careful customer observations and focus groups where user needs are translated into features and performance.

Service Support
As an extension to our product offering and to further complement our commitment to continuous and high productivity, HIDROMEK service support is available in various points across the world.

Our engineers, professional service teams, mobile service vans and local facilities are always available with the required tools and parts to minimize any potential downtime for its customer's machines.
Manufacturing, sales, after sales services and used equipment assesment of construction machinery.
Backhoe Loaders:
HMK 62 SS
HMK 102 B Alpha
HMK 102 S Alpha
HMK 102 B Supra
HMK 102 S Supra
Wheel Excavators:
HMK 140 W
HMK 200 W
Crawler Excavators:
HMK 140 LC
HMK 220 LC
HMK 300 LC
HMK 370 LC HD
HMK 490 LC HD
Special Purpose Excavators:
HMK 200 W MH
HMK 220 LC LR
HMK 300 LC LR
HMK 370 LC LR
HMK 220 LC TX
HMK 370 LC D
Motor Graders:
MG 330
MG 460

Ahi Evran OSB Mahallesi Osmanlı Caddesi No:1, 06935, SİNCAN ANKARA , Türkiye
+90 312 267 12 60
+90 312 267 12 39
Firma İletişim Formu
34.176 kez görüntülenmiştir