HİDROLİKSAN HALİM USTA HİDROLİK PRES İMALAT SANAYİ TİCARET LTD. ŞTİ.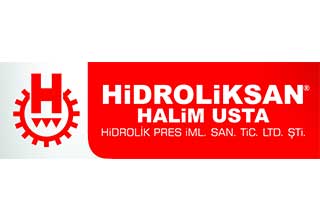 HİDROLİKSAN HALİM USTA HİDROLİK PRES İMALAT SANAYİ TİCARET LTD. ŞTİ.
Company Hidroliksan established in 1982, continues to manufacture hydraulic presses up to 3.000 ton capacity at the factory of closed area 10.000 sqm.

Hidroliksan is proud to able to respond the needs ofthe following sectors which are automotive, agriculture, metal forming, recycling and many others they need to compression in their production.

Hidroliksan, with stronge structure, quality management system, educated human resources and technology that produces high­ quality solutions, has earned the confidence of whole world.

Hidroliksan who closly follow up technological developments that dedicated to its production, in the world, is present to customers a good support before and after sales with highy quality products, reasonable prices and timely delivery.

Hidroliksan has been exporting more than 40 countries which are especially in Europe, Middle East, West Africa and Asia with the dealer networks. Main activity for the promotions in these country, is exhibitions. Hidroliksan gives importance to promotions, participates more than twenty exhibitions pera year with his dealers or directly.
• Hydraulic Workshop Presses
• Hydraulic Workshop Presses with Table
• Hydraulic Press Brake
• Hydraulic Hose Crimping Presses
• Hydraulic C Frame Presses
• Hydraulic C Frame Deep Drawing Presses
• Hydraulic H Frame Single Action Presses
• Hydraulic H Frame Double Action/Deep Drawing Presses
• Hydraulic Column Frame Single/Double Action Presses
• Hydraulic Sheet Forming Presses
• Hydraulic H/Column Frame Vulcanized Hot Rubber Presses
• Hydraulic Salt Block Presses
• Hydraulic Cambering ress
• Hydraulic Straightening Presses
• Hydraulic Iron Workers

Büyükkayacık OSB Mh. 405 No'lu Sk. No: 22, 42250, SELÇUKLU KONYA , Türkiye
+90-332-251 73 40
+90-332-251 73 41
Firma İletişim Formu
26.648 kez görüntülenmiştir