FRESAN MAKİNA SAN. VE TİC. LTD. ŞTİ.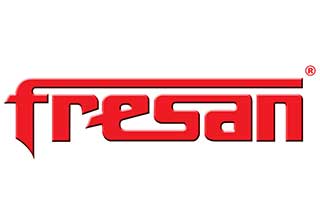 FRESAN MAKİNA SAN. VE TİC. LTD. ŞTİ.
FRESAN, established as a machine shop in year 1974, today produces machinery in its 1500 m2 closed and 2000 m2 open air factory, with a total of 3500 m2 . Containing eccentric presses and special machinery in its production programme, FRESAN exports 70% of total production to countries like, Germany, Poland, Netherlands, Portugal, Bulgaria, Hungary, Croatia, Egypt...etc.

Products with CE accreditation reach to numerious customers all around the world.

Production programme contains;

- C frame eccentric presses 10 tons to 100 tons (100 kN - 1000 kN)
- Special machinery
- Hydraulic punching presses

Combining efficiency and quality in production is of crucial importance and a production goal in today's World as energy gains more and more importance. Achieving this goal is possible if high quality and precision manufacturing machinery are used.

Thus, FRESAN eccentric presses are designed and constructed to help achieve today's production needs.
PRODUCTS & SERVICES
Eccentric Presses
- Flywheel Driven
- Gear Driven
- With Mechanical Clutch

C Type Hydraulic Presses
- C Type Hydraulic Presses
- C Type Double Acting Hydraulic Deep Drawing Press

Guillotine Scissors
- Reducer Guillotine Shears
- Hydraulic Guillotine Shears
- Arm Guillotine Scissors
- Pneumatic and Mechanical Scissors

Roller Machines
- Motorized Asymmetric 3 Roll Plate Rolling Machines
- 3 Roll Motor and Manual Arm Rolling Machines

Cord Machines
- Motorized Cording Machines
- Manual and Motorized Cording Machines

Profile and Section Bending Machines
- FMP 30-40
- FMP 50
- FMP 60

Segmented Knife Folding
Multifunctional Machines
Hydraulic Metal Punching Press
System Solutions for Sheet Metal Processing
Küçükbalıklı Mahallesi Muhittin Kırcal Sokak No: 3, 16250, OSMANGAZİ BURSA , Türkiye
+90 224 215 52 52
+90 224 215 52 50
Firma İletişim Formu
20.794 kez görüntülenmiştir