EFE ENDÜSTRİ ve TİCARET A.Ş.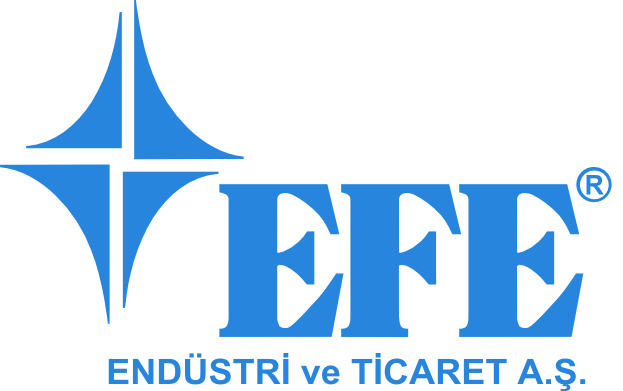 EFE ENDÜSTRİ ve TİCARET A.Ş.
EFE ENDUSTRİ VE TICARET A.S. was founded in 1974 and is a member of Mert Group since 1999.
EFE has production activities in the factory on a total area of 55.000 m² (17,500 m² of which is covered factory area), in Kemalpaşa in Izmir.
EFE has ISO 9001 Quality Assurance Certificate approved by TÜV-Germany, ISO 14001, CE and Quality Certificates for each product approved by TSE,Turkish Institute of Standards.
EFE is the leading company in the field of manufacturing Municipal Vehicles, Construction Equipments and Special Applications.

Production range includes :

Municipal Vehicles & Services

• Hydraulic Refuse Collectors, Cesspit Emptiers, Skip Loaders, Water Tankers, Hook-lifts, Jetting and Suction Machines, Refuse Transfer Semi-trailers, Refuse Transfer Stations, etc..

Construction Equipments

• Truckmixers, Concrete Batching Plants, Concrete Mixing Plants, Tippers, Low-Bed Semi-trailers, Tipping Semi-trailers, Water Tanker Semi-trailers, Cement Carrying Semi-trailers, etc..

Special Applications

• Battle Tank Transporting Semi-trailers, Custom-made Heavy Duty Semi-trailers; etc..

EFE provides efficient after sales service for its products. All of the products are under guarantee and spare part support is provided for 10 years. Guarantee Certificate is approved by Ministry of Industry and Trade / Turkey.

Compression Garbage enclosures , Concrete trucks, Dry - Wet Type Concrete Batching Plants , Tank Carriers, Sewage , Water Tanker, loaders , Fire Fighting Vehicles .
EFE Minipacker,
EFE Dumper Garbage Box,
EFE Damper,
EFE Refuse Transfer Semitrey
EFE Low-Bed Semitrey

Rear Loading Hydraulic Compactor Double Chamber Waste Collection Equipment
Rear Loading Hydraulic Compactor Waste Collection Equipment
Side Loading Hydraulic Compactor Waste Collection Equipment
Broom
Waste Collection Equipment Suitable for Crane Underground System
Minipak
Water tank
Sewer truck
Channel Opening Equipment
Container Washing Equipment
Mini Dumper / Satellite Vehicles
Hook Loaders
Waste Transfer Semi Trailer
Side Loading Glass Collection Equipment
Side Loading Packaging Equipment
Ankara Asfaltı 20. Km., 35171, KEMALPAŞA İZMİR , Türkiye
+90-232-877 01 82
+90-232-877 01 91
Firma İletişim Formu
30.793 kez görüntülenmiştir