DİŞSAN REDÜKTÖR SAN. VE TİC. A.Ş.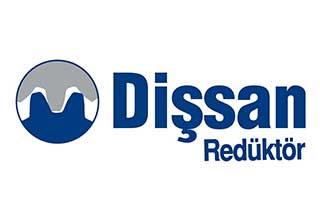 DİŞSAN REDÜKTÖR SAN. VE TİC. A.Ş.
Dissan Reduktor, established in 1970, is one of the leading companies in Turkey manufacturing gearboxes and couplings. With over 40 years of experience in diverse branches, we provide the most efficient solutions for our customers' needs.

We have a wide product range covering worldwide standard gearboxes and application specific gearboxes with helical-spur gear units and helical-bevel gear units. Our products provide ideal solutions for construction machinery industry; steel, cement, coal and mining industries; chemical industry; sugar industry; plastics machinery manufacturers; cooling tower manufacturers and other heavy industry sectors.

Our DG and DZGM series are mainly used for belt conveyors and elevators. DA series are prefered for heavy duty crane installations. DKL series panmixer gearboxes are ideal for concrete plants. DKS and DMF series are specially designed for cooling towers. DAE series gearboxes are used for plastic extruders. DMA series monoblock gearboxes are ideal for all kind of heavy industry drive units.

Dissan Reduktor is an ISO 9001:2008 certified company and quality and customer satisfaction is our top business objective.

Our mission is to serve our customers' needs with the best quality, most rigid and long lasting products. Our products are the result of unique design, innovation, technical know-how and state-of-the art technology. We offer maximum efficiency, fast availability and an attractive price level and aim to establish long term successful business partnership with our customers.
GEARBOXES
- Gearmotors
- Industrial Gear Units
- Helical Gear Units
- Bevel Helical Gear Units
- Planetary Gear Units
- Foot Mounted Gearboxes
- Flange Mounted Gearboxes

COUPLINGS
- Hydraulic Couplings
- Elastic Couplings
- Gear Couplings
- Overrunning Clutches

BACKSTOPS

İstanbul Tuzla Organize San. Bölgesi (İTOSB) 9. Cad. No:12 Tepeören, Akfırat, 34959, TUZLA İSTANBUL , Türkiye
+90-216-593 06 40
+90-216-593 06 50
Firma İletişim Formu
17.013 kez görüntülenmiştir