ARI MAKİNA İNŞAAT SAN. VE TİC. LTD.ŞTİ.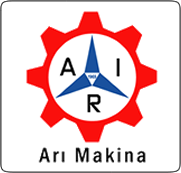 ARI MAKİNA İNŞAAT SAN. VE TİC. LTD.ŞTİ.
Ari Makina, who is servicing the meat treatment sector of Turkey, was founded by Kemal Arici in1969. As a company manufacturing the first TSE (Turkish Standards Institute) certified Meat Treatment machines of Turkey, it continues its activities in a strong position comparable to other major machinery industry not only in Turkey but worldwide with its experience and knowledge accumulated throughout the years.

The Law No. 4703 issued on January 2002 for the adaptation process to the European Union regulations, is now published under the title of European Union 23 new approaches directives '' regulations'' and put in force. By January 01, 2003, the CE mark became compulsory for the products under the scope of the LVD and EMC directives. In this direction, Ari Makina who has realized the rapid adaptation of all the standards that must be arranged and adapted in the process of the integration the European Union, maintains providing high quality products in compliance with the CE directives with its CE certified machines in the world markets.

Ari Makina initiates the manufacturing process upon the results of long R&D studies of which the projects were performed by its engineers of all its manufactured machines. In addition to the production of the meat treatment machines, Ari Makina is representing the proved European brands in Turkey and Middle East territories. Thus, in principle Ari Makina, has accepted to have a product range fulfilling all the requirements of the related consumer segment by arranging its product range at top level. Ari Makina is among a few named certain brands of the world with its characteristic of providing solutions to the consumers with all the production equipments that the meat treatment and integrated meat facilities may need. With this characteristic, deservedly, it is the biggest manufacturer of the meat treatment machines in Turkey.
MEAT GRİNDER
MACHINE FOR SMALL PIECES
MEAT SAWS
CHOPPİNG FROZEN MEAT MACHINE
CUTTER
HYDROLIC FILLING MACHINE
HAMBURGER FORM MACHINE
AUTOMATIC OVEN
AUTOMATİC FILLER MACHINE
MiXER
MANUAL TRAY SEALER
AUTOMATIC TRAY SLEAR MACHINE
BOILER
Dudullu O.S.B. İmes Sanayi Sitesi E blok 501. Sokak No:9, 34956, ÜMRANİYE İSTANBUL , Türkiye
+90 216 364 24 66
+90 216 364 31 48
Firma İletişim Formu
23.873 kez görüntülenmiştir